By: Storey Clayton
I haven't been posting a lot here this year. I've spent too much time arguing on Facebook with people who will probably never change their minds, an old habit from years of debating and judging debate and coaching debate. I truly love debate in all its forms and yet I'm still not totally convinced that it's always or even often a good use of time. And yet I am the moth to debate's flame, no matter what it consumes. Regardless, like Bernie's campaign, this post isn't about me.
It's about Bernie Sanders, what happened last night in Michigan, and what it portends for the increasingly unpredictable 2016 Presidential race.
Nate Silver, universally regarded guru of electoral politics, and his team at 538 are calling last night the biggest upset in any vote since the 1984 New Hampshire primary, if not ever. You might think he's trying to just wipe the egg off his face for basically saying there was no chance ("less than 1%") that Bernie would win Michigan after polls ranged from having him down 5% to 37%. Never mind that 538 somehow concocted that the 37% was the most reliable poll, even though it only robo-called landlines:
"Federal law only permits us to call land lines using automated polling. Because likely Primary voters are older, 54% are 60 or older and 86% are older than 50, we believe there are sufficient land line voters to get an accurate sample. We do not have to make any assumptions of likely voter turnout."
-"Clinton Opens Up Huge Lead in Michigan", Mitchell Research & Communications, poll conducted March 6, 2016
But everyone got this wrong, though not all as appallingly as Mitchell Research & Communications. Even Bernie himself sent his supporters home, somehow unsure that their massive grassroots campaign among people younger than 50 would work to turn the state that everyone had already penciled into Hillary's column. And suddenly, every Democratic state poll, every model, every assumption has to be scrabbled up and thrown out like so many contracts at Mitchell Research & Communications. The narrative that Hillary Clinton is marching inexorably, though slowly, to the Democratic nomination is back in the uncertainty column.
Her surrogates on national TV and all over the media, through their budding panic last night, hasten to point out that Hillary dominated Mississippi, adding yet another Southern state to her tally. And don't even get them started about the insurmountable lead in superdelegates! Never mind that those superdelegates are fickle and might flip as soon as the winds change, or that they're not committed at all, at any point, until the actual convention, or that they are entirely undemocratic and would never flip an election that Bernie had otherwise won if they ever wanted to see another progressive vote for the Democratic nominee in their lifetime. They're super! Let's count them in every major media analysis as though they were locked in. Because somehow Hillary's lead of about 200 delegates doesn't look that insurmountable if you only count the real, representative delegates.
But let's leave out delegates. Say the media is right about delegates, but wrong about polls. Let's just say that Michigan provides the green-light that Iowa and Nevada almost did (and would have had they been primaries and not machine-impacted caucuses), demonstrating that Bernie can win anywhere outside the South, can basically tie or win in every blue state, that the establishment's polls have been flawed from the outset, unable to keep up with Bernie's momentum, excitement, and youth power. We're almost out of real estate in the South – after North Carolina and Florida vote next Tuesday, there will be no more "firewall" for Hillary to hide behind, no way of her saying she "still won tonight" based on lopsided votes in states that will inevitably vote for Trump or Cruz or both at once in the general if the Republicans succeed in betraying Trump.
What if Bernie wins 35 states?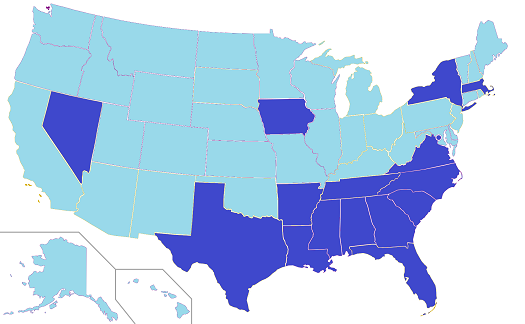 No, Hillary supporters, you can't poll your way out of this one. Polls are useless, remember? Remember the 37-point lead on the eve of Michigan? Remember "greater than 99% for Hillary"? Nate Silver isn't going to save you from this possibility.
We'll give Hillary Florida, though I think that's quite questionable – there's a lot of evidence that Florida is it's own quarky state that diverges from the rest of the South. But let's say it's enough like Texas that she gets it. And we'll throw in New York, too, home of Wall Street and the Clinton carpetbagged Senate tenure. And let's assume DC is enough like the South that she takes that too.
Then… what else? Where else, after Michigan, can Hillary possibly plant her flag and say "yes, this territory is mine".
I will grant you that Utah, Kentucky, Maryland, and New Jersey all seem a little borderline to me. Maybe even Connecticut too, though most of the 1%ers there are Republicans I think. That's five more states that would make it a slightly more respectable 30-20 split. But honestly, after Michigan, I'm not at all sure. The few Democrats in Utah and Kentucky don't strike me as sure Hillary voters. Connecticut looks a lot like Vermont in some ways. Let's pursue for the sake of argument the map above.
And let's say, for the sake of argument, that the delegates still lean Hillary. Or even strongly so. That Bernie's thinner margins in the 35 states than that band of solid red Southern states Hillary wins by a lot mean that he still trails in the delegate count overall. What then?
Oh, I know what the rules say. I also know that the rules say the Republicans have to nominate Trump when he wins the required number of delegates, but I'd still be more than surprised if they actually do that. Given the utter open war on Trump in the Republican establishment, it's very hard to picture a convention where Mitt Romney, John McCain, and other party elders lock hands with Trump in triumph and wish him well on the way to the White House, even if he gets 1,400 delegates. Party politics are not federal laws – they are rules both set and enforced by the parties. There's no saying they have to follow their own rules.
Which is another advantage-Hillary argument, right? Because the Democratic establishment so desperately wants her to win?
Well, maybe. What Democrats seem to want even more than Hillary is to back a winner. And if they look at that map, really study it, do they see a general election winner in Hillary? When she wins mostly red states and Bernie wins 35 of them overall?
If you're wondering, Barack Obama beat Hillary 29-21 in the state count in 2008: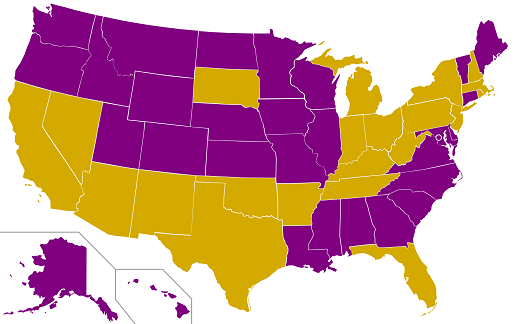 There are some populous and blue states in her column that year, and Obama still went on to win the general. But there are also lots of solid blue states in Obama's map, plus bellwethers like Missouri and Wisconsin. Both campaigns had their mix of coalitions. But I'm not convinced that Hillary's coalition is as large as either hers or Obama's in 2008. It's Southerners and old folks. That's it. She split the African-American youth vote outside the South. She won it among the oldest generations, but she wins every race in the oldest generations. People who've given up on being truly progressive or have enough money that they feel comfortable with the establishment love Hillary. Everyone under 50 outside the South is in Bernie's camp. And he's drumming up the kind of enthusiasm and energy that drives them to the polls in the face of insurmountable published odds, paying off that better than 100-1 ticket.
Once we leave the South, once Bernie starts racking up state after state after state, week after week, what will this race look like? As Hillary starts getting more panicky, possibly blundering more and making more insensitive or entitled statements, as Bernie voters gain confidence about his electability and popularity and ability to defy the establishment-issued odds? Can you really hand the nomination to someone who won 30% of the states?
I think we may find out. If nothing else, we learned last night that 2016's primaries didn't stop being interesting. They're only getting started.